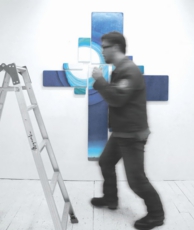 With my artwork I hope to create for people a certain airy feeling or ambiance.
For example, when experiencing nature, one feels the sensation of being there, existing in that place. It's the same feeling when on an ordinary day a person placed
in the city can experience spontaneity in an unexpected setting.

Much of my pieces are abstract expressions made through dyeing composite materials, but occasionally there are parts with more concrete expressions too.
As much of my work is dyeing, the images come through the combination of resins and other factors. Although this is one part that remains throughout, I find myself more concerned with the expressions that comes forth as different materials merge.
I hope it is possible for those who view my work to experience the feeling of air, in light of memories and also the scenes and emotions connected to them.


1968 Born in Hokkaido, Japan
1993 Graduated from Tama University of Arts,Textile Design

Solo Exhibitions
2019 AC GALLERY, Tokyo
2018 LIN, Tokyo
2015 LIN, Tokyo
2014 Ouchi Gallery, NewYork, USA
2013 LIN, Tokyo
2011 GALLERY SPACE PAUSE, Tokyo
2009 LIN, Tokyo
2006 Roof, Tokyo
2005 LIN, Tokyo
2003 NC Art Gallery, Tokyo
2002 Sapporo-shi museum gallery, Hokkaido
2001 LIN, Tokyo
2000 HARAJUKU GALLERY, Tokyo
1998 Eiko OHARA Gallery, Tokyo
1997 HARAJUKU GALLERY, Tokyo
1995 LIN, Tokyo

Group Exhibitions
2020 T-shirt exhibition The Museum of Arts & Crafts ITAMI, Hyogo
2020 "SQUARE SOME textile 6" Gallery HINOKI, Tokyo
2019 "Textile art miniature 6" Gallery 5610,Tokyo /The Museum of Arts & Crafts ITAMI, Hyogo
2019 FIBER & FACES 12+1 -Metamorphosis- 3331 Arts Chiyoda, Tokyo
2018 Contemporary Art from JAPAN part III Södertälje Konsthall, Sweden
2017-2018 "Textile art miniature 5" Tokyo/ Korea/ Fukuoka
2017 "wood in the night - into deep self - " Gallery Mona, Tokyo
2017 "SQUARE SOME textile 3" GALLERY ART POINT, Tokyo
2017 "The 11th 100 Artists Exhibition" Ouchi Gallery , NewYork, USA
2017 5th comic show "Farewell" Ouchi Gallery, NewYork, USA
2016 "Japan Paper Art"  Edsvik Konsthall, Sweden
2016 "Contemporary Art from Sweden part II" Red Brick Warehouse,Yokohama
2016 "PAPER WORKS EXHIBITION 2016" STAGE YU, Tokyo
2016 "SQUARE SOME textile 2"AC GALLERY, Tokyo
2015 "ART POINT Selection I" GALLERY ART POINT, Tokyo
2015 "Textile art miniature 4" Gallery 5610,Tokyo / 21st Century Museum of Contemporary Art, Kanazawa/ Ishikawa
2014 Contemporary Art from JAPAN part II "11 Invited Japanese Artists", Saltskog Gård, Sweden
2014 "Colorful" 643tenjishitsu, Tokyo
2013 "Contemporary Fiber Art II" KANEKO ART TOKYO, Tokyo
2013 "Textile art miniature 3" The Museum of Arts & Crafts ITAMI, Hyogo - Gallery 5610, Tokyo
2012 "Art Wave Exhibition vol.2" RECTO VERSO GALLERY, Tokyo
    "6th 100 artists exhibition in Italy" Sala dei Templari, Italy
    "Contemporary Art from Sweden" Red Brick Warehouse,Yokohama
2011 "Wrap Lap Rap" Red Brick Warehouse,Yokohama
    "Textile art miniature 2" Gallery 5610, Tokyo
2010 "Textile art miniature" Tamagawa Takashimaya ROOF GALLERY, Tokyo
    "Contemporary textile competition 2010" GALLERY SPACE PAUSE, Tokyo
2008  "Mix Art Exhibition" Art Imagine Gallery, Tokyo
    "SJP2008 Concerning Blue Now" Kyoto-shi art museum, Kyoto
2007  "Japan SJP exhibition" Fuchuu-shi art museum, Tokyo
2005  "39 Independent Exhibitions" FADs ART SPACE, Tokyo
    "SJP Joint exhibition" Bumpodo Gallery, Tokyo
2004  "Art EXPO NewYork" Javits Convention Center, NewYork
    "Free Art Free" Tokyo
    "SJP Osaka international art exhibition" Osaka prefectural contemporary art center
2001  "International Impact Art Festival" Kyoto-shi art museum, Kyoto
2000  "Contemporary Art Small Work exhibition" Key Gallery, Tokyo
1996  "Easy Pop Art Show '96" Fukui
    "Joint exhibition" Gallery LE DECO, Tokyo

Awarded Prize
2010 "The grand prize" Contemporary textile competition 2010
2004 "TDK DESIGN prizes" Free Art Free
   "The SJP Osaka prize" SJP Osaka international art exhibition